Consider modern superyacht and megayacht interiors, replete with chrome-plated brass fittings and plexiglass partitions. They look stylish and clean, for sure…but they're not exactly what you'd call 'unique'.
"Most yachts essentially look like hotels," Björn Asmussen, director and executive architect at design studio 3Deluxe (3DLX), tells Ship & Boat International. "They're very posh, but nothing you can't find on land. When we were developing this megayacht concept, we thought: 'If we could pick any environment, what we would have?' – and we decided on a park." After all, who wouldn't want to conduct business meetings over a picnic in the park, instead of replicating office meeting rooms on the waves? Business aside, a park environment offers the chance for some highly memorable social events and live music experiences, and could even provide an ideal background for theatrical performances.
3DLX's zero-emission VY.01 yacht concept created a stir late last year for being one of the first (if not the first) yacht concepts to be made available as an NFT (see Ship & Boat International November/December 2021, pages 28-29). The NFT is currently being auctioned at the SuperWorld site with a starting bid of 5 Ethereum (5ETH). However, the successful bidder will not just be taking ownership of a nice picture of a cool yacht. "The NFT also contains a 3D model of the yacht, for anybody who would like to try to build it themselves," says Asmussen, "and the buyer will also be welcome to speak to 3DLX about what the construction process will involve."
In this way, he adds, the NFT isn't just a piece of digital art, but functions as a "smart contract" between the buyer and 3DLX, with a view to further technical development. The company has a high level of expertise in designs of this type, having previously worked on expedition and cruise vessel concepts.
At this point, some readers may be grimacing, or feeling dismayed by all this talk of cryptocurrency and NFTs. Without doubt, 3DLX's decision to make the yacht concept available as an NFT is a headline-capturing manoeuvre, albeit one bound to please bidders who are invested in this market. However, it isn't intended as a gimmick. Asmussen says that the long-term plan is to "sit down with the shipyards and potential owners to bring the concept to life, whether this is through the NFT or not" – and, while the yacht looks like a lot of fun, 3DLX is serious about the concept as a means of promoting and demonstrating eco-friendly yacht operations.
Love it or loathe it, crypto has made some investors extremely wealthy over the past few years, giving these newly minted millionaires the opportunity to purchase high-end, luxury yachts. In terms of social and environmental responsibility, though, Asmussen believes that most of these investors have little in common with the stereotype of the nouveau riche yachtowner, concerned only with signalling his or her affluence. "With environmental concerns at the forefront, we see this concept as an option for people who've made money from crypto, but who want to be part of a shared community," he says. "Yachts are no longer seen as solitary objects, disconnected from the world; many potential yacht buyers want a boat that can give back to society when it's not in use."
The VY.01 yacht is open to numerous design tweaks before it is finalised. The basic hullform would measure approximately 100-110m in length and 19m in beam, and 3DLX is considering both open-roof and enclosed arrangements. A mono superstructure will shield the vessel from bad weather and will provide ample space for the storage of solar cells, to power the onboard lighting, HVAC and desalination system.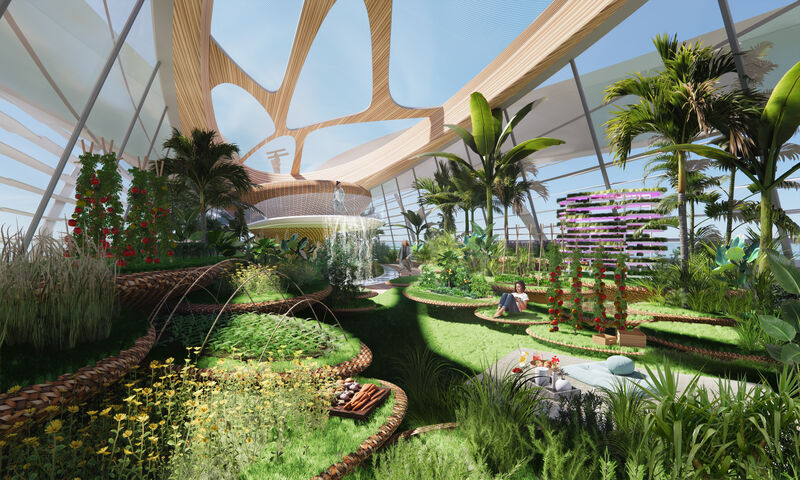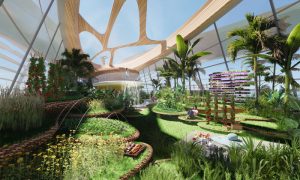 Described by 3DLX as a "floating Garden of Eden", the vessel could incorporate artificial sunlight, permitting the cultivation of flora, for example. Alternatively, the yacht could be used by schools and universities when it is laid up, providing students with an immersive and memorable experience, and a first-hand, detailed simulation of how ecosystems function. Asmussen adds that fish farms could be maintained on board, and fish manure used to fertilise plants and grow fruit and vegetables – essentially giving the yacht the capability to sustain itself in an eco-friendly manner.
The yacht's power arrangement is currently on the table. Asmussen favours fuel cell technology, although he expresses reservations about the availability of fuel cells "of premium quality" that will be able to perform optimally when the yacht is hundreds of miles out in the ocean. "We can see the yacht being built within the next 10 to 12 years, and the concept could trickle down to other, smaller vessel types too," he says.